About Natalie von Matt
Natalie von Matt
It all started with an antique perfume bottle, a souvenir my husband brought me back from a flea market in France. A small enchanting bottle with a tiny velvet bow. It was so pretty that I wanted to carry it around with me to be seen. The idea for my first fairy-tale necklace was born. More followed - a new passion was shaped and our apartment in Hamburg was transformed into a Dream of Pearls.

"It all started with a perfume bottle."
Many of my girlfriends felt the same: they were missing the deeper meaning within their beautiful jewelry pieces, a story. Combining antique pearls with contemporary elements made my creations unique, timeless and each of them had their own mysterious story to tell. My girlfriends were thrilled.
In 2003 I established my label "Nuts and Pearls" and sold my first necklaces and earrings in the online shop.
After I turned my back on my old job and was completely mesmerized by the pearls, the Studio in our apartment grew soon too small. In 2005 I opened my first Studio Store in the neighborhood Karoviertel in Hamburg. It was a vivid and creative neighborhood that provided me with more inspirations. The store offered me a personal exchange with my clients - a very valuable experience.
In 2011 my husband and I felt increasingly drawn towards Berlin. Even though Hamburg still played a big role in our lives, the capitol started being the place where my life was centered. So, in May 2011 I moved my Studio Store to Berlin-Mitte, Brunnenstraße 10.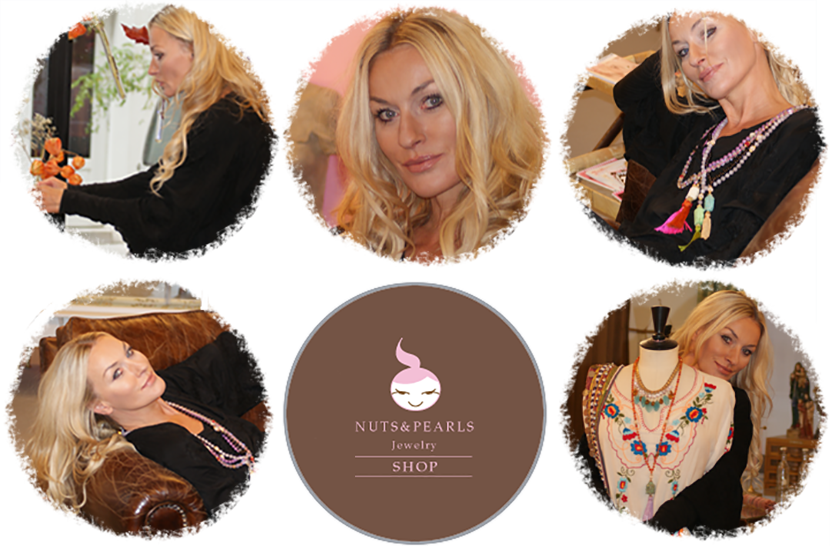 The passion for old, rare materials still captivates my interest. There is never a trip where I don't look around for rare treasures.
During a trip through Asia in 2015 I discovered some beautiful handiwork done by the Afghan women of the Kuchi people. From these elements I designed purses and founded the accessory label "Envy-me" (Link: Envy-Me in the shop).